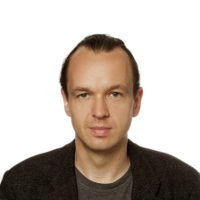 Grzegorz J. Nalepa, PhD (gjn@agh.edu.pl, http://home.agh.edu.pl/gjn) holds a position of assistant professor in AGH UST in Krakow, Poland.
He has been an active researcher since 1999. His work is focused on design methods for intelligent systems, as well as knowledge representation and reasoning techniques. He formulated a new design approach for intelligent rule-based systems called XTT (eXtended Tabular Trees), as well as the Semantic Knowledge Engineering design and analysis methodology for knowledge-based systems. He authored and co-authored over 150 publications (see here) from the domains of rules and knowledge engineering, intelligent systems, semantic web, business intelligence and software engineering. His fields of interest also include computer security and operating systems.
He gave invited lectures in the University of Almeria, Spain in 2011 and 2012. He presented an invited tutorial on FedCSIS 2012 entitled Semantic Knowledge Engineering for Business Intelligence: concepts and tools.
In 2009 along with professor Antoni Ligęza he created the GEIST research team, which he has been leading since then. He has been actively involved in number of research projects, including Regulus, Mirella, Adder, HeKatE and recently INDECT, BIMLOQ, Parnas and Prosecco. He coordinated several projects including HeKatE, BIMLOQ, Parnas and Prosecco.
From 2012 his work is focused on two main application areas: business intelligence, including business rules and process modeling and analysis, and ambient intelligence including context aware applications for mobile devices.
He has been involved in over 30 international conferences and workshops. Since 2008 he co-organizes the Knowledge and Software Engineering Workshop (KESE) at KI, the German AI conference, and more recently on the Spanish CAEPIA, as well as ECAI 2012. He is the President of the Polish Artificial Intelligence Society (PSSI http://pssi.agh.edu.pl), member of ECAI. Dr Nalepa holds PhD and Dsc (habilitation) from the AGH UST.
He has been lecturing computer science courses in number of polish universities. He has been working with commercial companies preparing professional trainings in computer security and operating systems. He also took part in a number of curricula preparations, including graduate and postgraduate studies, for several universities. From 2011 he has been a coordinator for several Erasmus exchange agreements.
He is an active user and supporter of free software and open source software.
For a full scientific resume see http://home.agh.edu.pl/~gjn/wiki/research.